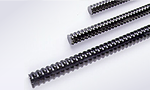 High-tensile threaded rebars(Neji-Tetsu-Con):
A major innovation in the construction industry
This video shows work being conducted at a high-rise construction site.
The method that is usually used at construction sites to connect rebars is known as gas pressure welding. This worker, however, is just using a special type of joint to connect threaded steel bars. As you may have guessed, TTK's reinforcing bars are being used at this construction site.
The secret behind high-tensile threaded rebars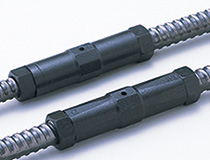 Known as Neji-Tetsu-Con in Japanese, the threaded reinforcing bars shown here were developed by TTK.
TTK's high-tensile threaded rebars can be mechanically connected together by using special joints. Because gas pressure welding is not required, connecting these rebars is easy even for non-skilled workers.
This easy-to-use construction technique has brought innovation to Japan's construction industry, as it allows work to be carried out by a small number of workers even in bad weather conditions. To further enhance construction work efficiency, TTK also provides post-construction follow-up services for customers that make use of our rebars.
The impact of high-tensile threaded rebars on the construction industry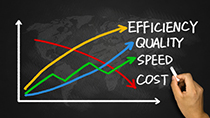 This innovative technique has had a great impact in Japan, especially for major construction contractors.
Firstly, it has helped limit construction costs by reducing labor requirements at construction sites and shortening the construction time. Secondly, the new technique delivers more stable quality than is possible with gas pressure welding—which requires professional skills—and enables companies to provide safer and more reliable structures. This technique has also made the construction of high-rise structures easier by overcoming the problems associated with using gas pressure welding to connect the large-diameter, high-strength rebars used in such structures.
All of the above are great advantages for construction contractors engaged in constructing large numbers of high-rise buildings. Today, the use of high-tensile threaded rebars has become an indispensable construction technique.