Taking full responsibility for our products through the provision of customized follow-up engineering services

Taking full responsibility by sending a team of experts to each construction site to provide customized follow-up engineering services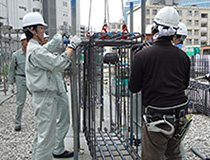 One of the most notable features of our business is that we have established a comprehensive follow-up support system that enables us to take responsibility for our products, even in the construction stage after product delivery.
Building material manufacturers usually believe that responsibility for their products ends on delivery. TTK, however, has established a team of engineering guidance and management specialists to ensure that our high-tensile threaded rebars (Neji-Tetsu-Con), joints, and other products are being used according to their design specifications and serving their intended purposes. We send these engineering teams to construction sites across Japan to provide customized follow-up engineering services.
More specifically, we offer two main services. Firstly, we provide engineering guidance on joints. We explain how to join different types of joints (such as high-strength ACE-JOINTs, which must be screwed together) and how to perform quality management for such products.
Secondly, we take responsibility for the management of engineering work involving the use of joints and other products. This involves joining precast members to colomns, walls, and beams using TOPS-JOINTs (which are joined by filling them with mortar).
Evolving our products by feeding back information obtained by identifying areas for product improvement and development through follow-up engineering services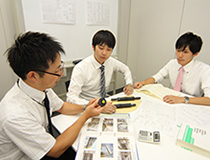 The reason why TTK provides follow-up engineering services is not just to take responsibility for the products we have delivered. Providing follow-up services at construction sites also allows us to identify needs related to improving existing products and developing new products and technologies. This information is fed back to our development division to facilitate the further evolution of TTK products and technologies.
The information gathered by the follow-up engineering support division is used throughout our business divisions to carry out new development projects as well as to enhance and improve existing products. This involves all divisions of the company and covers all areas of our business activities, including joint research with universities and research institutes, product design, production, and quality assurance.
The most significant characteristic of TTK's business is that all of our divisions remain committed to the continued pursuit of product evolution.