10th to 12th floors, Stage Building, 2-7-2 Fujimi, Chiyoda-ku, Tokyo 102-0071
Tel: 03-5276-9700; Fax: 03-5276-9711
13th floor Nissay Yodayabashi East Bldg, 3-3-13, Imabashi, Chuo-ku, Osaka city, Osaka 541-0042
Tel: 06-4707-1450; Fax: 06-4707-1454
3rd floor, Gibraltar Seimei Nagoya Nishiki Building, 3-5-31 Nishiki, Naka-ku, Nagoya City, Aichi 460-0003
Tel: 052-962-3530; Fax: 052-962-3536
3rd floor, Oak Tree Ichibancho Building, 4-1-1, Ichibancho, Aoba-ku, Sendai City, Miyagi 980-0811
Tel: 022-222-0665; Fax: 022-222-0667
9th floor, Okabe Building No. 14, 1-7-22 Hakataekimae, Hakata-ku, Fukuoka City, Fukuoka 812-0011
Tel: 092-433-2122; Fax: 092-433-2123
10th floor, Sapporo MN Building, Kita 1, Nishi 3-3, Chuo-ku, Sapporo City, Hokkaido 060-0001
Tel: 011-206-6477; Fax: 011-206-6466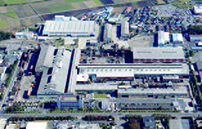 Oyama Works,TTK's main factory, in Oyama City, Tochigi Prefecture, manufactures high-tensile threaded rebars (Neji-Tetsu-Con). Located 70 km from Tokyo within the greater Tokyo metropolitan area, it is very convenient for supplying products to all parts of the Kanto region (eastern Japan). To meet the needs of construction contractors striving to construct ever taller buildings, this factory produces the USD590 and USD685 high-strength steel bars.
520 Yokokura Shinden, Oyama City, Tochigi 323-0819
Tel: 0285-27-4411; Fax: 0285-31-1004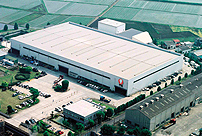 The Cut & Bend Center is located next to Oyama Works. It carries out high-precision processing to cut and bend high-tensile threaded rebars manufactured at Oyama Works in accordance with the needs of individual construction sites and customers. The center possesses the advanced facilities and technologies required to cut and bend high-strength steel bars (such as the USD590 and USD685), and it also functions as a logistics center for joints.
1108 Yokokura, Oyama City, Tochigi 323-0813
Tel: 0285-27-4480; Fax: 0285-27-4490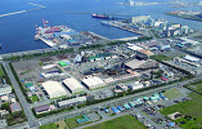 Located in Hachinohe City, Aomori Prefecture, TTK's Hachinohe Works is the only production site for steel bars in the northern part of the Tohoku region. Its extensive premises (more than 250,000 m2) contain a factory that manufactures steel bars for concrete reinforcement to meet construction demand in the Tohoku region. The factory's recycling business, which the local community has great hopes for, occupies about half of the site.
4-11 Kaigan, Kawaragi, Hachinohe City, Aomori 039-1161
Tel: 0178-28-9191; Fax: 0178-28-6565
1708, West Wing, Hanshin Intervalley 24 Bldg., 322, Teheran-ro, Gangnam-gu, Seoul 135-918, Korea
Tel: 82-2-2183-0692; Fax: 82-2-2183-0698