Leading the industry with state-of-the-art manufacturing facilities that continue to produce high-strength, high-quality steel bars for concrete reinforcement

Accumulating know-how and constructing production lines that deliver a combination of production efficiency, quality improvements, and cost reductions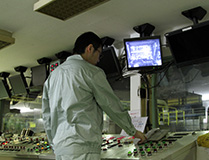 High-quality rebars that offer enhanced strength and flexibility are made from a higher level of scrap materials, and they have a more refined composition than ordinary steel bars. Producing such rebars requires the latest facilities and operational skills, advanced know-how, as well as rigorous process management and quality control for all production lines.
At TTK, we are committed to delivering the highest quality in all our business divisions, from product development, production, and sales through to the provision of follow-up engineering support at construction sites. Individual divisions feed the know-how and skills that they acquire back to the production lines so that we can continue to evolve our production technologies. Because our production lines are always up-to-date, we are able to simultaneously deliver production efficiency, quality improvements, and cost reductions.
Pursuing a top-class production environment and maintaining the quality of our high-strength rebars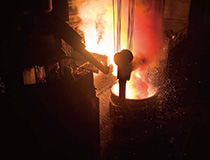 The ladle furnace (LF) is a production facility that symbolizes TTK's commitment to having a top-class production environment. LFs enable us to maintain the quality of our high-strength rebars by removing impurities from high-quality scrap. Using LFs allows us to achieve an even higher level of purity while at the same time facilitating highly precise adjustments to the composition of the rebars.
TTK is one of the few companies in the electric furnace industry to have introduced mold electromagnetic stirring. This has proven very effective in the homogeneous cooling of billets with delicate component properties.
As a development-driven manufacturer, TTK concentrates its management resources on its production facilities and is committed to delivering products that meet the needs of both the construction industry and society as a whole.