Establishing TTK as the market leader by developing a proposal-based marketing strategy designed to deliver not only increased structural strength but also reduced construction time and costs

Customized marketing services, such as briefings on product characteristics and hands-on engineering experiments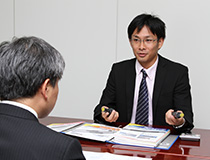 TTK's products are a result of our outstanding product development capabilities and manufacturing technologies. The fact that they are used in the construction of high-rise buildings throughout Japan provides the driving force behind our unique marketing strategy.
To encourage the adoption of TTK products, it is essential that we are able to quickly meet the diverse needs of individual construction sites. To this end, our sales division promotes a proposal-based marketing strategy that is designed to reduce construction time and costs while also improving structural quality under the leadership of engineering staff with expert design knowledge.
The process we undertake in our sales activities can be summarized as follows. First, we invite construction contractors and other construction-related personnel to briefings where we describe our products' characteristics and advantages. After that, we conduct hands-on engineering experiments that enable customers to experience our products' advantages for themselves. At this point, our team of experts in architecture submits proposals based on the relevant design and construction conditions.
CAD-assisted design proposals that help improve the construction site environment and promote sales of TTK products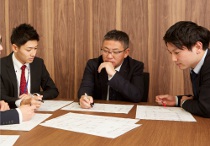 The first step in TTK's technological proposal service involves consulting the client's design department to get a good understanding of the purpose and requirements for the construction design. At the same time, based on the construction design plan, we review how we can use our products most effectively and draft a rebar specification plan to reduce construction time and costs while simultaneously increasing structural strength. Using CAD, we submit a detailed plan that covers all aspects of the work, from the numbers and types of rebars through to the construction procedures. As a result, we provide not only technological support for the structural design, but also support for improving the construction environment as a whole.
We also carry out carefully designed comprehensive sales activities. These range from follow-up support regarding the engineering methods to be used at the construction site through to contact services for the delivery and purchase of products. Through these client-centered sales activities, we support construction plans that help to improve the overall construction conditions and promote sales of TTK products.
As a result of our proposal-based sales strategy, TTK's products continue to be selected for use in super high-rise buildings and condominiums throughout Japan. This has enabled us to secure the largest share of the market. To avoid complacency, we will further promote our proposal-based sales activities so that we are able to meet an even more diverse range of requirements and needs. Our aim in doing so is to help improve the construction environment for the industry as a whole.