Delivering reliable products through process and quality management practices that take full advantage of our manufacturing expertise

Producing high-strength rebars of the highest quality by carrying out stringent process and quality management based on information gathered from all of the company's divisions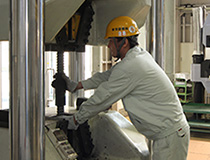 Process management and quality management are essential elements in the production of all TTK's products, including our high-strength rebars, which are known for their outstanding features and high quality.
TTK manufactures reliable, high-quality products under a rigorous management system by leveraging information fed back from all of its divisions. Such information includes the latest specifications from our development division, as well as information on customer needs from our sales staff and the follow-up engineering service division.
Three processes are critical in our process management: refining, adjustment of chemical components, and rolling. Because the manufacture of high-strength rebars involves the meticulous blending of raw materials, strict composition control is essential. This is why our rigorous control measures start from the material-blending stage.
In our ladle refining, we conduct adjustments of chemical components not only with electric furnaces, but also based on composition data acquired by using a cutting-edge emission spectrophotometric analyzer to analyze samples from ladle furnaces (LFs).
Delivering reliable products through rolling process management that leverages TTK's know-how and strict quality assessments using the latest testing equipment
In the continuous casting stage, a mold electromagnetic stirring system is used for the homogeneous cooling of billets, which are then reheated and rolled. Because the strength of the rebars is dependent on management of the chemical components, temperature, and time that elapses during the rolling stage, TTK uses its best production technologies to improve quality.
In the processing stage, a wide variety of creative ideas are employed to improve the quality of the end products (for example, high-precision cutting using TTK's proprietary grooved blade). Products manufactured in this way are then sent to the QS Center to be subjected to a strict quality assessment.
TTK is one of the few companies in the steel industry to perform highly accurate assessments by using 250-ton fatigue testing machines. Using these machines enables the company to continue to supply high-quality products that meet the needs and retain the trust of not only the structural design departments of the construction contractors, but also the actual construction sites.