Threaded geometry on all over its surface.
Can be joined with a coupler no matter which point you cut it.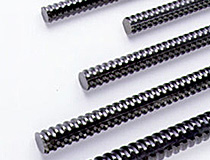 TTK's Neji-Tetsu-Con is hot-rolled threaded rebar conforming to SS560:2016 B500 and B600.
This rebar features threaded geometry on all over its surface. It can be cut at any point along its length and joined easily with a coupler using the principle of screw.
Features
Can be joined by only screwing up a coupler. Simple and low-cost construction in a short time.
All threaded surface geometry. Connectable which point along its length you cut it.
| Inquiries about our products | |
| --- | --- |
| For further information and inquiries about our products and services, please complete and send the on-line form and we'll get back to you. | |